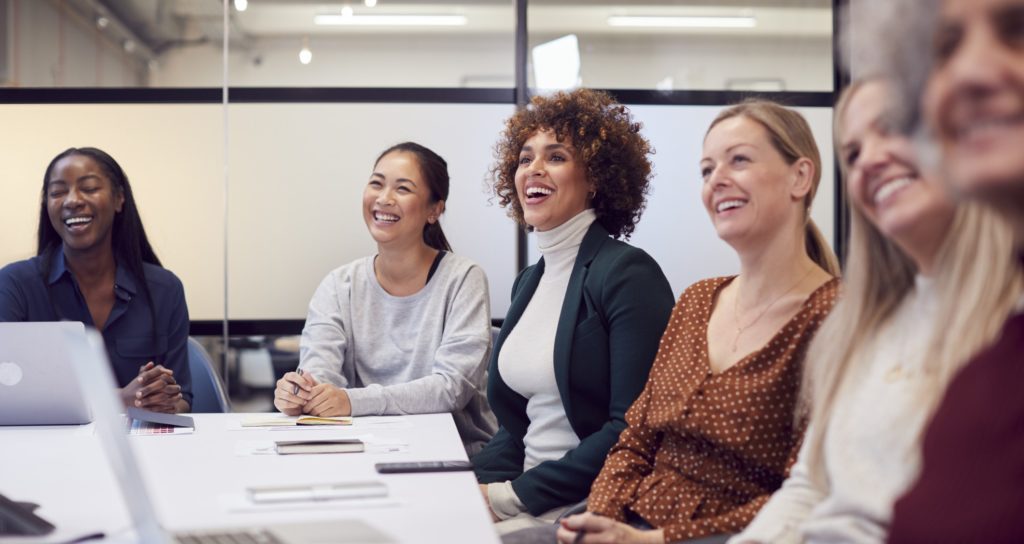 International Women's Day offers the opportunity to acknowledge and celebrate the positive steps that have been made toward gender equality within Financial Services.
Financial and Insurance Services contributed £173.6 billion to the UK economy in 2021, making it the fifth largest sector in terms of overall economic output [1]. In other words, Finance is a vital sector for the UK. It is also a sector historically dominated by men. Women, and girls, represent half of the world's population – and therefore half of its potential. It is in the best interest therefore for all industries to efficiently leverage this potential and include more women in their workforces. It is encouraging to see that UK Finance organisations have made positive progress over the last couple of years. Today, let's celebrate the achievements of the industry.
Women in the Boardroom – You're Hired!
UK finance firms now have a higher proportion of women on their boards than their European counterparts with women making up 58% of new board appointments over the last year, compared to an average of 50% at European companies [2]. The current gender split of board members across UK Financial Services firms stands at 43% female, and 57% male indicating there is still work to be done to even the scales.
However, the big positive is that this marks a five percentage-point increase from June 2022 when it was 63% male and just 37% female.
Anna Anthony, EY UK Financial Services Managing Partner:
"The drive for gender balance in the boardroom is playing out prominently across UK financial services. Ensuring that boardrooms reflect the diverse customers and societies they serve remains a work in progress, but the substantial increase in female representation in the past six months alone is particularly encouraging." [2].
Gender diversity is highest across wealth and asset managers' boards, and lowest amongst UK bank boards where only 41% of directors are women.
Sustainability – The Future for Finance?
Today, prioritising sustainability goes hand-in-hand with profit-making and improved competitiveness.
You can read about how to make businesses more sustainable here.
More than half of investors believe boardroom experience in sustainability has a 'significant' impact on the attractiveness of an investment – with 22% indicating it has a 'highly significant' impact on a company's investment case.
UK Financial Services organisations are increasingly appointing board members with sustainability expertise. This seems to correspond with women's skillsets. Female board directors for financial institutions are far more likely to have professional experience in sustainability than their male counterparts according to the EY Boardroom Monitor. While the current gender divide in UK Financial Services organisations' boardrooms stands at 57% male and 43% female, 64% of board directors with experience in sustainability are female [2].
So, women in Finance are walking into 2023 with higher representation at board level and with highly demanded skillsets.
It's encouraging to see these achievements toward gender equality within UK Financial Services and International Women's Day is a good opportunity to reflect and celebrate this important progress. However, it is also important to use the day to continue the conversation around gender equality and acknowledge that there is still work to be done.
According to the Global Gender Gap Report 2022, it will take another 132 years to close the gender gap. More specifically, within the UK Finance sector, the number of women employed in senior management will take 30 years to reach parity with men at the current pace (2022) [3]. In terms of the gender pay gap, the median average pay gap within Financial Services was 26.6% in 2020 – compared with 12.1% across all other UK sectors [4].
So, clearly there is still a way to go before the UK's Finance sector can proudly claim to have achieved gender equality. But there has been promising progress over the last year and the drive towards sustainability offers an exciting opportunity for women in Finance.
Stay tuned for upcoming articles surrounding the 'four-day week', agile and waterfall project management and advice for leaders.

If you're looking to deliver projects and products faster, to scope and budget, explore our resources on Critical Chain Project Management (CCPM). Follow the Goldratt UK LinkedIn page for updates and offers.
© Goldratt UK, 2023
[1] SN06193.pdf (parliament.uk)
[2] UK financial boardrooms lead Europe in acceleration of female and sustainability appointments | EY UK
[3] UK finance sector gender parity to take 30 years at current pace -study | Reuters
[4] Gender pay gap and diversity in financial services (pwc.co.uk)